Gifted Education

For the field of the Mathematics(click here)
For the field of the Science(click here)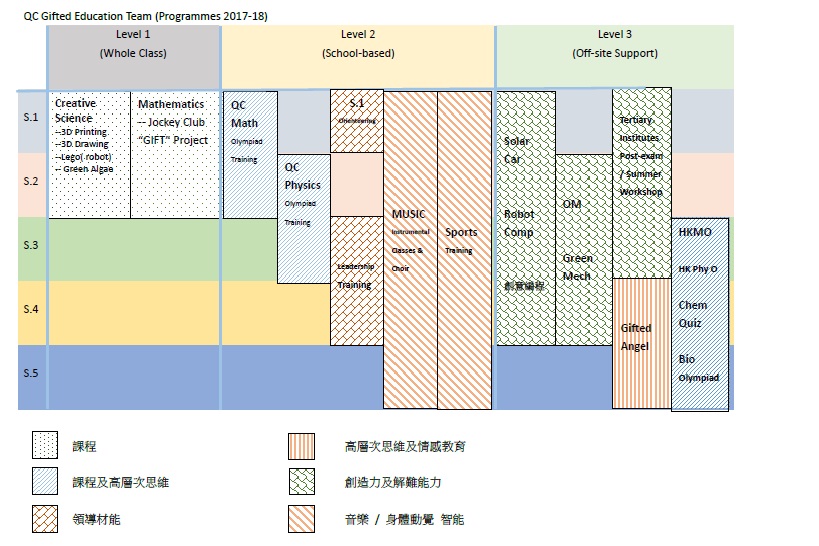 Gifted Education Activities 2017-2018
Hong Kong GreenMech Contest 2018
Senior School Team
4B
LAI CHEUK HEI
Champion, Best run Award and Creativity Award
4B
TAM HOI WUN
4B
CHOW SHEUNG YAN
4B
TSANG HOK YAN
Junior School team
3A
CHEUNG HOI WAN
Second Runner-up
3B
CHAN HIN YIN
3B
CHAN YAN KI
3B
CHOW CHI WING
Odyssey of the Mind Hong Kong Region Tournament 2018
Senior School Team
4B
CHAN WANG YIN
First Runner-up
4B
LAM PERRON
4B
YUEN PUI HO
4B
CHENG HONG HO
4C
LAU HEI LONG
4C
LEE MAN HIN CARSON
4D
YIP SHING HEI
Junior School Team
1B
YEUNG HO EDEN
Second Runner-up
2A
SEE KA WUN
2C
NGAN YAT FEI
2D
LAW JING SEE
2D
WONG DAVY
2D
YUNG CHI HANG
2B
KWONG TSZ WAI
2017 World GreenMech Contest
Senior school Team
4D
WONG Yik-Ngai
Second Runner-up
4D
LIU Ho-hin
4D
NGAI Ka-kit
4C
WONG Yat-hong
Junior school team
3D
Tsang Hok-yan
The third prize and the most effective green energy
3C
CHOW Sheung-Yan
3A
YUEN Wai-ching
3A
LAI Cheuk-hei
Gifted Education Activities 2016-2017
Creative Coder Competition (08-07-2017)
Event
Class
Student name
Awards
Group Event
4B
Wang Jun Yao

Second Runner-up, Best Installation Design Award in Senior Form

4D
Khan Abdull Samad
4D
Leung Ho
4D
Tai Sung Chit
Hong Kong Physics Olympiad 2017 (14-05-2017)
Event
Class
Student name
Awards
Individual Event
4C
Cheung Ho Hin
First Class Honour
3D
Yue Cheuk Kan Kelvin
4C
Ha Long Hei
Second Class Honour
4C
Mo Yau
3A
Yuen Gei Lap Patrick
Third Class Honour
3B
Chow Sheung Yan
Honourable Mention
3B
Lam Perron
4C
Ho Yu Shing
Group Event
Best School Award
Hong Kong GreenMech Contest 2017 (06-05-2017)
Event
Class
Student name
Awards
Group Event
3A
Lai Cheuk Hei
Champion, Creativity Award and Teamwork Award in Junior Form
3A
Yuen Wai Ching
3B
Chow Sheung Yan
3D
Tsang Hok Yan
4C
Wong Yat Hong
First Runner-up and Teamwork Award in Senior Form
4D
Liu Ho Hin
4D
Ngai Ka Kit
4D
Wong Yik Ngai
Odyssey of the Mind Hong Kong Regional Tournament 2017 (04-2017)
Event
Class
Student name
Awards
Group Event
2B
Chan Kin Lam
Champion
Problem 2 Divison II
2B
Cui Xue Meng Mattew
2C
Ng Ping Hei
2C
Ng Yam Kiu
2C
Yeung Kin Lok
2C
Yu Cheuk Him Curtis
2D
Yip Kin Nam
4A
Fan Wing Kuen
Second Runner up
Problem 4 Divison III
4A
Hui King Yin
4A
Ng Tsun Hin Ryan
4B
Yu Ngo Yin
4C
Sze Hoi Tung
4D
Leung Ho
4D
Wong Chun Ho
13th Pan-pearl River Delta and Chinese Elite Schools Physics Olympiad(17-02-2017)
Event
Class
Student name
Awards
Group Event
5A
Ng Samuel Yan Lik
Group Second Class Honour
5D
Leung Tsun Yin
5D
Lau Sum
4C
Cheung Ho Hin
4C
Mo Yau
4D
Chan Kok

Individual Event

5A
Ng Samuel Yan Lik
Third Class Award
5D
Leung Tsun Yin
14th International Talent Problem Solving Competition (01-2017)
Event
Class
Student name
Awards
Individual Event
1A
See Ka Wun
Gold Award, Interschool First runner-up
1B
Siu Sum Yin
Sliver Award, Interschool First runner-up
1C
Wong Yuk Nam
2B
Lam Cheung Yeung
Silver Award, Interschool Champion
2C
Chan Sin Kei
Gold, Interschool Champion
2D
Chau Ming Nam
Silver Award
2C
Hung To Ting
Gold Award, Interschool Champion
3A
Yu Chun Wang
Bronze Award
3B
So Long Ting
Silver Award
3B
Chow Sheung Yan
Gold Award
3B
Ng Ho Yu
3B
Lam Perron
Gold Award, Interschool Champion
International Junior Science Olympaid 2017-- Hong Kong Screening (09-2016)
Event
Class
Student name
Awards
Individual Event
3D
Yue Cheuk Kan Kelvin
First Class Honour
3A
Yuen Gei Lap Patrick
Second Class Honour
3C
So Che Him
3A
Ng Shing Him
Third Class Honour
3B
Ng Ho Yu
Gifted Angels – Service Learning Competition 2016/17
Gold Award
6A
WONG Yik-Ngai
馮朗然
6A
YUEN WAI HIM
袁瑋謙
5C
CHAN TIN LONG
陳天朗
5D
MAK KA POK
麥嘉博
5D
SHAM YIN LAM
岑彥霖
Gifted Education Activities 2015-2016
Date

Events

Achievements

4-7 July 2016

HKUST Engineering Design Experience Workshop: Airship

20 QC boys and 20 St. Paul Convent School girls joined the workshop

May 2016

HK Phy Olympiad

Best schools award

Leung Tsun Yin

4D

First runner up

First class honour

Ng Samuel Yan

4A

First class honour

Lau Sum

4D

Second class honour

Ha Long Hei

3D

Third class honour

Mo Yau

3B

Honourable Mention

May 2016, July 2016

HK GreenMech Contest & 2016 World Bond Robot in Taiwan

 

 

HK GM Contest

2016 WBR

Junior Form

 

 

 

 

Wong Yik Ngai

3A

First runner up

Bronze Medal

 

Or Cheuk Hei

3B

Cheung Chung Ki

3D

Ngai Ka Kit

3D

 

 

 

Senior Form

 

 

 

Lau Sum

4D

Second runner up

3rd Place

Ng Chin Tat

4D

Wong Hoi Fan

4D

Wong Tat Kwan

4D

Apr 2016, May 2016

HKOM and HKOM(World Finals)

Junior

YU Hiu Yat

3A

Second Runner up +

Best Spontaneous Award

Local competition: OM(World Finals)

Mak Ka Po

3B

Ng Tsun Hin Ryan

3B

Poon Shing Hin

3C

Chan Tsz Hong Clive Junior

3D

Shum Pui Yin

3D

 

 

Senior

Fond Long Yin

4A

Overall Champion

Go to Iowa State University, USA, to join World Finals

Leung Chi To Vincent

4A

Wah Ching Kwan Gordon

4A

Wong Sau Fung

4A

Yuen Wai Him

4A

Hui Siu Kwan

4D

May 2016

International Mathematics Olympiad Preliminary Selection Contest—HK 2016

Cheang Chi Hung & Ng Samuel Yan Lik: Silver Award

Yuen Wai Him: Bronze Award

Chan Pak hop: Honorable Mention

Mar 2016

Mobile Laboratory for S.1 students

Jan 2016

HK Math Olympiad

 

Individual

Group

林栢朗

2A

 

Regional winner in Heat event

曾冠霖

3C

First Honour

伍恩力

4A

Second Honour

張智雄

4A

First honour

袁瑋謙

4A

First honour

Oct2015 - Mar 2016

Hong Kong Secondary School Students Moot Court Competition

| | |
| --- | --- |
| 5A | TONG LEE TAT ESMOND |
| 5A | TSE PUI HEI |
| 5B | CHIU CHUNG YIN |
| 5B | CHOY WAI CHAK |
| 5B | MAK TZE CHUNG ADRIAN |
| 5B | SIN LING KWAN ERNEST |
| 5B | TING HO TIN |
| 4A | FUNG LONG YIN |
| 4A | YUEN WAI HIM |
| 4C | LAU CHRISTOPHER TREVOR |
| 4D | WONG CHING YEUNG |
| 3C | CHAN TSZ HIM |
| 3C | FAN KA MAK |
| 3C | LEUNG HO |
| 3D | HA LONG HEI |
| 3D | NGAI KA KIT |

Sept 2015

HKAGE Gifted Angels Competition

Honorable Mention

| | |
| --- | --- |
| 3B | LAU YEE LOK |
| 4A | FUNG LONG YIN |
| 4A | YUEN WAI HIM |
| 4D | WONG CHING YEUNG |
| 5B | CHANG CHUN HO |
| 5B | CHU SHEUNG CHIT |
| | |

Sept 2015

2016 IJSO Hong Kong Screening Test

| | |
| --- | --- |
| 俞建華 | Second honour |
| 封諾澄 | Second honour |
| 柯卓希 | First honour |
| 張灝軒 | Second honour |
| 曾冠霖 | Second honour |
| 倪家傑 | Third honour |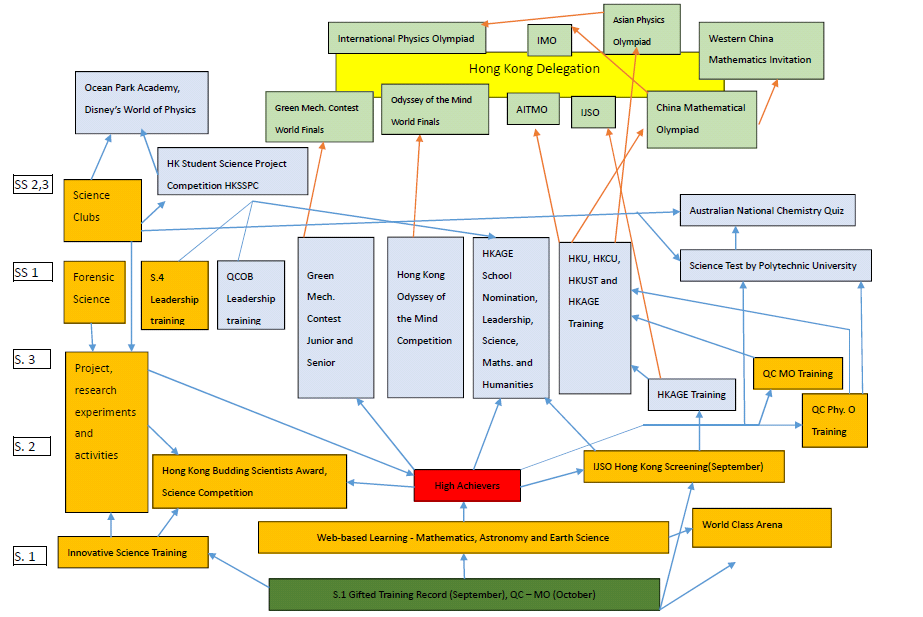 Participation in International Competitions
Students regularly represent Hong Kong in major international competitions. Students from Queen's College have:
1. represented Hong Kong four out of the last six annual International Junior Science Olympiads, with the six students from our school being awarded two gold, two silver and two bronze medals;
2. represented Hong Kong in the World GreenMech Contest in Taiwan twice over the last four years, with our five participating teams winning two championships, and three first runner-up positions in Hong Kong GreenMech Contest, and one of the champion teams going on to be first runner-up in the World GreenMech Contest in 2012;
3. won the championships of the regional Odyssey of the Mind Competition and represented Hong Kong to compete in the Odyssey of the Mind World Finals eight times in the United States in the last ten years;
4. participated in the regional Shanghai Odyssey of the Mind Competition twice, being awarded first place in the Shanghai tournament in 2011.
Participation in Gifted Programmes
Many of our students have been identified as gifted and invited to participate in accelerated learning programmes organized by the Hong Kong Association for Gifted Education. On average, twenty students from Queen's College are nominated for these programmes by the school every year, with over 95% being admitted onto the programmes.